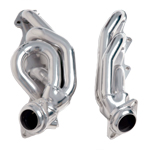 Unleash your vehicles hidden power with a set of headers from Streetpros. Listed as one of the top 10 power parts installed on a vehicle by Hot Rod Magazine, a new set of high flow headers from Streetpros is exactly what you need to distance yourself from the competition.

Your stock headers and exhaust manifold are designed to limit air flow and reduce sound. Needless to say, this results in decreased performance and towing capacity. All Streetpros headers are significantly less restrictive than the stock manifolds on a vehicle and dramatically increase the power and efficiency of an engine.

With top brands like Gibson, JBA, Doug Thorley, Headman, Edelbrock and many more, Streetpros has the header you need at a guaranteed every day low price!