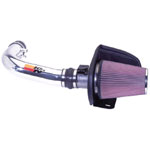 Want more power? Desperate for better fuel economy? Just want a cool looking chrome pipe shining back at you when you open your hood? You are not alone. Thats why Streetpros offers a complete line of performance air intake systems at a guaranteed everyday low price.

Factory installed air intakes are designed to limit air flow and eliminate sound. Unfortunately, this losing combination results in less horsepower and torque and reduced fuel economy. At Streetpros, we offer top air intake brands like K&N, AirAid, Injen, AEM, Volant and many many more. Installing one of these air intake systems will unlock your vehicles full potential.

Installation of a new air intake system provides immediately horsepower and torque increased that you can feel. Over time as your engine becomes more efficient you may see an increase in fuel economy as well. That means over time your new air intake system will pay for itself in fuel savings!