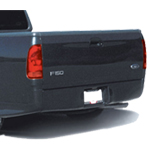 Roll pans are a great way to give the rear of your vehicle a custom look. Roll pans replace your stock bumper giving your vehicle a smooth, custom appearance.

We offer todays hottest styles and brands. We have steel roll pans from Sir Michaels, EFX, Street Scene and Precision. Fiberglass roll pans from IPCW, Keystone, Lund, Precision, Street Scene and Streetpros. Lastly, we have urethane roll pans from Street Scene and KBD.

Regardless of what you are building, Streetpros has a roll pan that will fit your needs and your budget!